Casa da Piscina
Portugal

photography: peter bennetts
text: wei fen

In the north of Portugal, the softness of maritime pine, oak, and eucalyptus trees descendgently into hand-chipped stone embedded into the earth. Sitting gently at the base of this hill in the Minho region is the Casa da Piscina, flowing across this terraced landscape: it is at once buried yet open; arresting, but quietly so.

The forests, gardens, and vineyards sit together in an unexpected harmony of wild nature,structure, and abundance. This transformative energy is reflected in the Casa da Piscina, which was originally intended for the summer months, but whose thoughtful design has deepened its role through the seasons and into the depths of winter.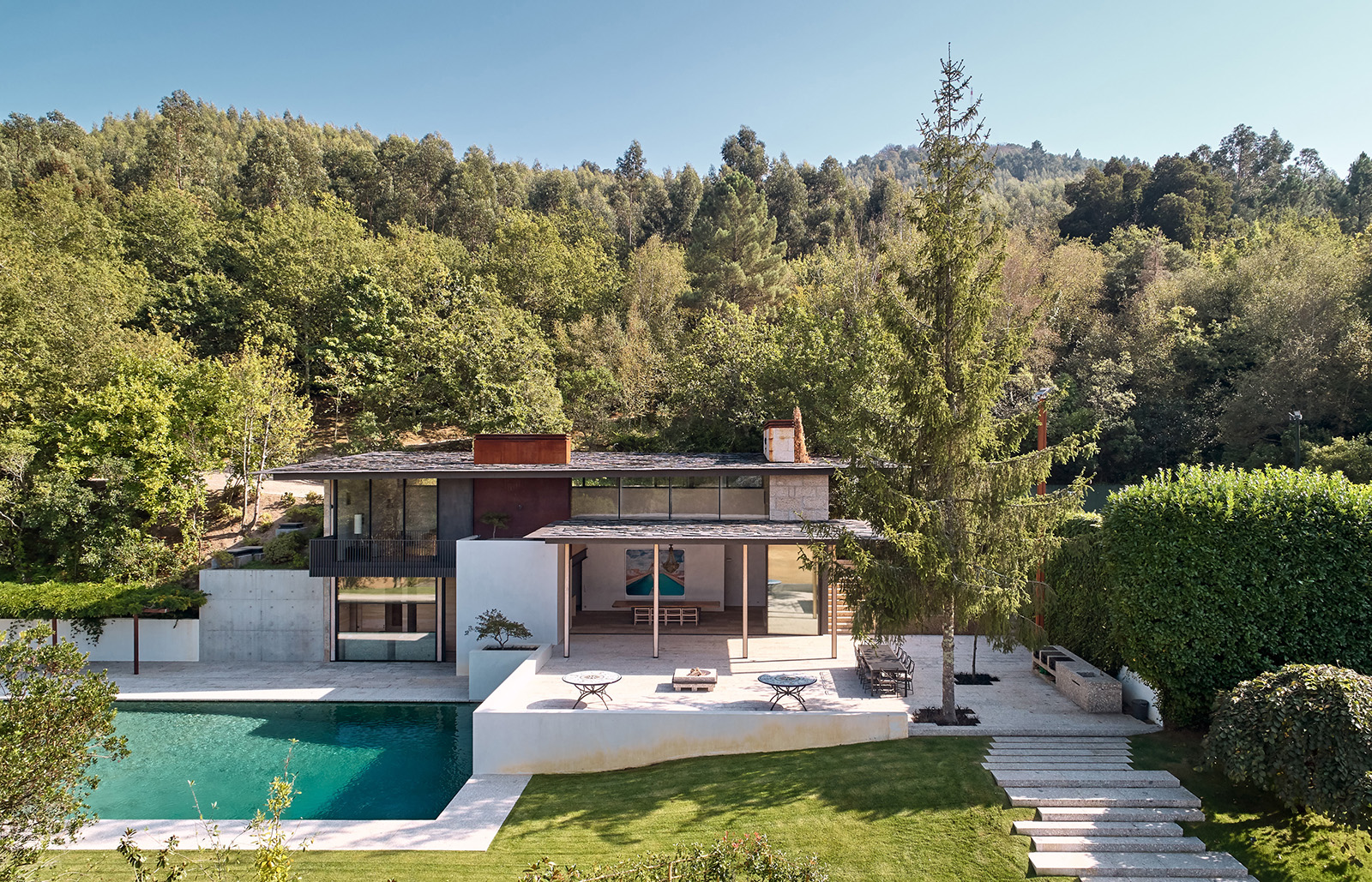 In-situ concrete, glass, steel, and stone catch the light of the sun all year round, and while the granite floors cool the space in summer, they transform into a thermal core with walls embedded into the earth during the colder months. So too, does the traditional xisto stone on the two overlapping roofs, punctuated with Corten steel chimneys that will eventuallytake on all the colours of weathering, marking all the possibilities of time.

An indoor fireplace carved into the vertical local granite walls of the dining hall ritualise warming the bones of the house, mirrored by an outdoor fireplace set in stone, feet on theground: an invitation for cooking over the fire, sitting around the hearth, under the stars,with friends and family. Framed by the double-height space with a generous dining table andchairs designed by Studio Nicholas Burns and an 18th century Baccarat chandelier, the warmth of a cabana for all seasons and occasions shines through the inside and the outside.





For these occasions and more, there is the cellar, discreetly accessed through a concealed door and passage way next to the dining hall. Intimate walls give way to a generous oak-encased space ripe for sharing wine experiences, ideas, and dreams - an interior to hol memories of solitude as well as the social.

The heart of the house lies in its relationship with the water, as cheekily captured by thelarge artwork in the dining room by Muntean and Rosenblum. The 30m pool offers of agradient journey from sandy stone banks into clear aquamarine and deep emerald, whilethe natural spring by the entrance stairs curves up from the ground, offering murmuredgreetings and the fragrance of sweet earth. Inside the house, bath rooms are encased by thesame stones, the same light from above, and the same views to the sky – allowing the samefresh air that flows through the outside into the inside. These different spaces highlight theever-changing, transformative quality of water, tracing the different possibilities andrelationships that spring from this source of life.

Bringing together the elements of light, earth, fire, and water, this carefree building lightly connects intersecting, overlapping rooms, some closer to the sky, some to the forest, and some to the water. It extends its original brief as a pool house by playing with what flows between the inside